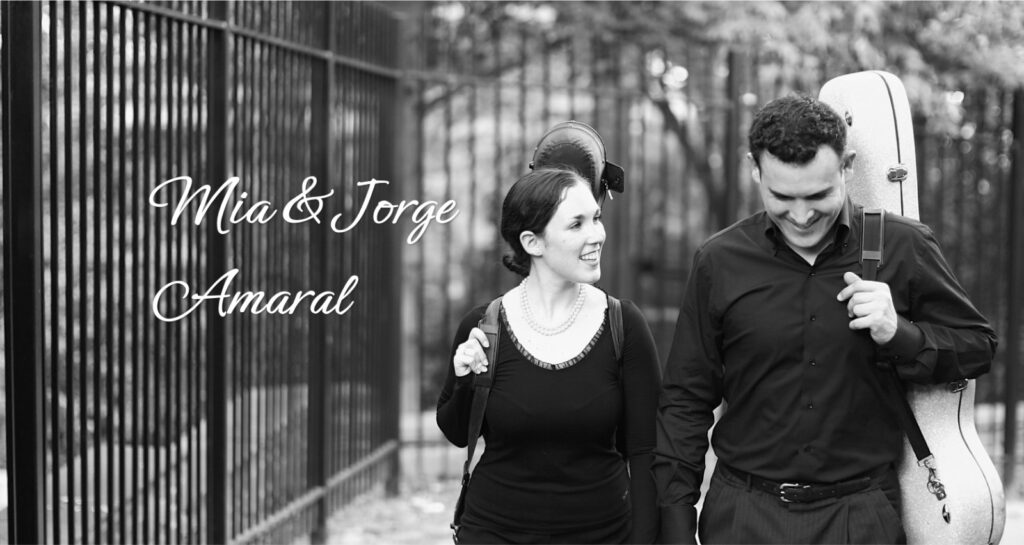 masterful, with poetic virtuosity and intensity of expression
– Il Messaggero Veneto, Italy
About Us
Duo Amaral was formed in 2008 and was soon garnering accolades from the media
Graduates of the Peabody Conservatory of the Johns Hopkins University, they have toured in Italy, Germany, France, Switzerland, Poland, Panama, Mexico, Israel, Cyprus and the USA, as performers and jurors, also offering workshops and masterclasses.
Mia Pomerantz-Amaral
Studied with Maestro Manuel Barrueco at Peabody Conservatory in Baltimore and Irit Even-Tov at the Rubin Academy of Music in Jerusalem, Israel. She has won the Top Prize at Guitar Gems International Competition in Natanya, Israel, Second Prize at the 38th Fernando Sor International Competition in Rome, Italy as well as the special prize winner of 'Best Interpretation of a Piece by Sor'.
Jorge Amaral
Graduated with his BM and MM from the Santa Cecilia Conservatory in Rome under the tutelage of Giuliano Balestra. He was the First Prize winner of the 29th Fernando Sor International Competition in Rome as well receiving the prize for Best Interpretation of a Piece by Sor that year.
Jorge turned out to be a phenomenal classical guitarist and teacher. He immediately understood the issues with which I needed help, and he clearly showed me how to address them. He demonstrated brilliant technical skills, stylistic sense, and musical scholarship. These qualities were combined with a sense of humor and a warm, supportive interpersonal manner. This was a great experience. I highly recommend Jorge Agresti if you are seeking a conservatory level classical guitar teacher.
– Anthony